Recensore: Elianto (09 Aprile 2004)
Voto del recensore:










(9)
Goblin Score: Non calcolabile (Voti: 1, necessari 10)
Letture ad oggi: 694
Marca o Produttore: Abacus / Überplay (2004)
Link al sito ufficiale: non disponibile
Autore: Michael Schacht
Tipo di gioco: Boardgames
Lingue: German, English
Giocatori: 2-4
Durata media: 90 min
Difficoltà: Average (most players)
Espansioni: non disponibile
Ambientazione: Middle Age
Meccaniche: Commerce/Trade, Positioning
Argomenti: Nautical, Economic/Financial
Premi/Riconoscimenti: non disponibile
Altre risorse TdG: cerca nei nostri Download, o nei Link sul web
Chi ha questo gioco: 2 utenti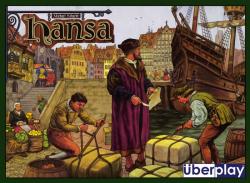 Descrizione
The board represents the sea enclosed between Denmark, Germany and Sweden. There are several towns (each with 1 or 2 trading places), connected each other by a peculiar system of one-way sea tracks. At each turn, a player receives 3 thalers, and with them and those eventually remaining from previous turns (max 3) can do a series of actions. The first is to supply all the trading places with 1 thaler. Afterwards, he can move the ship by moving it as many sea segments he wants, at the cost of 1 thaler each segment.

In each city that is reached by the ship (including the starting and the ending ports), the player can make only ONE of the following actions: 1) Buy a ware available in that city, paying to the player who has the more market in it. 2) Sell at least 2 goods of the same colour eliminating 1 of his market counters. 3) Eliminate one wares counter in order to place (according to the value of that counter) markets in that city. In doing so, the players need to score as many points as possible in order to win at the end of the game, which happens when the towns have been supplied a certain number of times.
The first system to score points is to sell goods, which provide 1 to 3 points according to their value (number of barrels on the counter). The second system is to get markets in the highest number of towns. Moreover, you get 1 point for each residual trading good that has not been sold, independently from the value, and 3 points max.

This mechanism is very easy and lets to approach the game with different systems: selling great amounts of goods, building many markets, or something in between. In addition, it is possible not only to obtain the maximum in his turn, but also to disturb the other players: for example, by blocking a course with the ship, or by dealing strategically with the trading goods. The game flows very rapidly. It is fundamental to avoid to lose turns by not scoring points or by not taking advantages, reminding that you cannot keep more than 3 thalers and 3 unsold wares at the end of a turn.